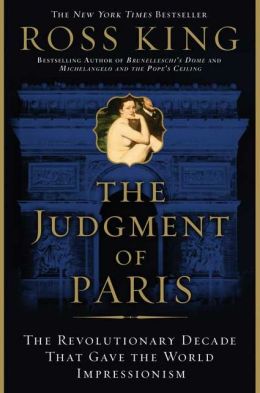 THE JUDGMENT OF PARIS
(2006)
BY ROSS KING
When I finished listening to the audiobook version of this text, I actually went out and purchased the print version because it was JUST. THAT. AWESOME.
Awesome? I can't even tell you how awesome it was. Words cannot express. There I was, listening to the audiobook, hit with wave after wave of juicy info about the Impressionists, Paris in disorder during the last half of the 19th century (Franco-Prussian War, etc. etc.), the politics, the culture, society, art...
I'm sorry, did I not mention that I consider France to be my spiritual homeland? I'm quite sure, in fact, that I was meant to live in 19th-century Paris in a nice little garden apartment with a tabby cat and lots of beautiful art and many, many books all around me. Somewhere, something went wrong and I was born near the end of the 20th century in America- go figure!
Anyway
, at the crux of
The Judgment of Paris
is the dynamic tension between the Classicist painter Ernest Meissonier and the Impressionist Edouard Manet. While Americans were slugging it out on the battlefields of the Civil War, Meissonier and Manet were slugging it out with paint and brushes. Impressionism, with its boldness and anti-establishment elements, stood in stark contrast to Classicist painting's formalism and clean, clear lines. King does a wonderful job bringing together all of the disparate elements that went into making the France of the last half of the 19th century and how Impressionism was at the center of major changes in philosophy, perception, and perspective. Ultimately, the Impressionists changed how westerners viewed art, and we are in love with their work even now.
Want to see some rockin' Impressionist paintings? I happen to have some
right here
.